DR: Government to Provide More than RD$356 Million to Banana Producers
2022-07-15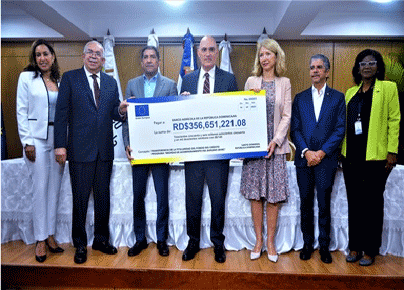 The Dominican Government received from the European Union a credit of RD$356.2 million to be used to finance banana producers in the provinces of Azua, Montecristi, and Valverde. The transfer corresponds to the Banana Accompanying Measures program for the Dominican Republic" (BAM), to be executed by the Agricultural Bank in coordination with the Ministries of Economy, Planning and Development, and Agriculture.
The facility will be channelled through the first contribution of RD$332 million and a second of RD$34 million to complete the total of RD$356. 6 million.
90% of the loan will be allocated to a credit facility, and the remaining 10% to technical assistance to train banana producers and Dominican personnel.
The contribution was delivered during a ceremony headed by the Minister of Economy, Planning and Development, Pável Isa Contreras; Fernando Durán, general manager of Banco Agrícola; and Katja Afheldt, ambassador of the European Union in the Dominican Republic. The program will have an initial five years to capture, analyze and grant financing facilities to the banana sector to execute activities to promote this fruit's production, marketing, and export.
It will grant individual and associative credits to micro, small and medium banana producers in the Dominican Republic, from RD$150,000.00 to RD$3,000,000.