Banana Exports from Costa Rica to the EU Drop
2022-05-13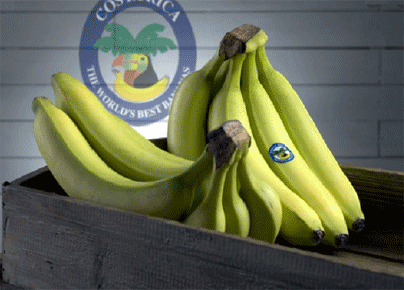 The Foreign Trade Promoter (Procomer) reported that $7 million fewer bananas were exported to the Old Continent between January and March compared to the same period in 2021.
The available figures for agricultural exports from Costa Rica during the first quarter of the year were affected by the armed conflict, with a drop of 1% compared to the same months of the previous year. The phenomenon is mainly due to the saturation of the banana market since the different suppliers of the fruit had to look for other destinations within the region in the first and second weeks since the war started.
Jorge Sauma, manager of the National Banana Corporation (Corbana), explained that at the national level, around three large producers had suffered the direct blows of the conflict by handling a significant volume to both markets. "With only one producer affected, it is a problem," said Sauma.
Added to the surplus offer from Ecuador, he said, is the problematic logistics of maritime shipments due to the container crisis, which generates delays in ports in addition to a significant increase in freight prices. The sector is facing an increase in the prices of primary inputs for producing and exporting bananas, such as fertilizers and cardboard.
For this reason, on April 5, the producers asked the European market for better prices for their fruit to mitigate the economic impact they had assumed for several months. The call was made together with the other producing countries of Latin America.
"The American market has a very good price and fortunately 50% of our fruit goes there, the other 50% goes to Europe, where the producer is sometimes forced to reduce prices because Ecuador is selling at very low prices, we are trying to avoid this, but it is almost impossible to control everything," added Sauma.
In 2021, Costa Rican banana shipments to the European Union generated $455 million, while $175 million were exported to the rest of Europe (of which $17 million went to Russia and Ukraine).
In total, banana exports from Costa Rica generated $1,066 million in 2021 to the whole world, with the European Union being the most important destination, followed by North America.
Unlike 2020, where each quarter the shipment of bananas remained stable, the previous year closed with October, November, and December with a significant decrease in shipments compared to the first quarter of the period.
The difference between exports first quarter and fourth quarter of 2020 was around $1 million, while for both periods of 2021, the discrepancy jumps to $58 million.