Bolivia: Banana Exports to Argentina Fall 70%, and Its Price Plummets
2022-04-28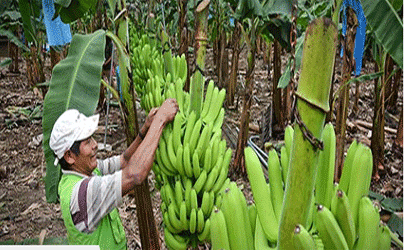 Bolivian banana producers in Cochabamba are in an emergency. According to press reports, the export of the fruit to Argentina fell by 70 per cent, and its price fell by more than 50 per cent due to the incursion of Ecuadorian fruit into the Argentinian market. In addition, there are restrictions from the Argentinian Government to prevent the departure of dollars from their country.
In March, the Central Bank of Argentine (BCRA) established quite restrictive criteria for the release of dollars, according to the companies, but which guarantees, according to the official view, that imports are not used for over-storage.
The measure aimed at curbing the drainage of foreign currency affects banana producers since payment for exports will arrive in the country 180 days after the product is delivered, said the representative of banana producers, Agustín Conde.
This worries the banana growers, who indicate that they will not be able to keep export banana production afloat since they must make payments for fumigation, use of fertilizers among other factors, and cannot wait 180 days.
The sector asked President Luis Arce to decide with the president of Argentina so that these payments are made as soon as possible. However, it is unknown if the leaders addressed these issues during Arce's visit to Argentina.
"There is devaluation and there are no dollars in Argentina, the money is filtered so that it does not come out. There is a strong crisis and there will be companies that are going to close," Conde said. He added that there is a lot of Ecuadorian fruit in the Argentinian market.
"If the current situation continues, the Bolivian banana will leave the Argentine market. The price has collapsed, it is worrying due to the low prices and the leaking of dollars by the Bank of Argentina", said the leader. "The measures that Argentina is taking affect us, that is why we ask that the Foreign Ministry and the ambassador in that country take steps to reduce this period," Conde said.
Currently, the Argentinean market is saturated with Brazilian, Paraguayan, Bolivian, and Ecuadorian bananas and the national production of that country.
In 2021, Argentina lowered the volume of banana purchases by 1 per cent.