Paraguay: Banana Growers Present Financing Project to FAO
2023-10-31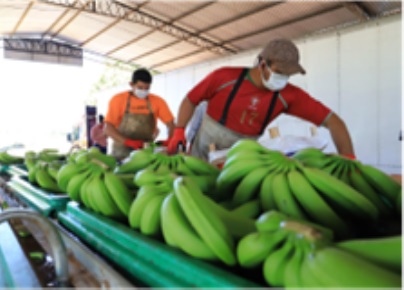 The Paraguayan press reported that the Government of that country is seeking financing of USD 61 million through the Food and Agriculture Fund of the United Nations (FAO) to strengthen two of the country's most important sectors: dairy and bananas.
It comes after the Ministry of Agriculture and Livestock (MAG) presented projects to the World Food Forum in Rome.
Hugo Franco, mayor of Tembiaporá and representative of banana producers, highlighted the importance of this opportunity, stressing that it is the first time that the sector has received such significant visibility despite years of effort and work. Franco also highlighted Paraguay's international recognition as a major banana producer.
The financing project presented focuses on improving the industrialization of the banana sector since not all production is currently processed, resulting in an excess of bananas on the farms.
In addition, this project will boost research and adoption of risk management systems for more than 1,000 producers to access new markets. This is especially important because of the situation with Argentina, which has yet to pay off its debt to producers due to a shortage of dollars. Hugo Franco noted that although banana exports are likely to break records this year, Argentina's non-payment has resulted in an insufficient return, with only $19 million received out of $26 million in total exports.
The mayor explained that banana production is concentrated in three regions of the country: Tembiaporá in Caaguazú, Guayaibí in San Pedro, and San José Obrero, Isla Pucú and Tobatí in the Department of Cordillera. Together, these areas cover more than 10,000 hectares dedicated to banana production.
Regarding the projects presented to FAO, the Minister of Agriculture, Carlos Giménez, recalled that a preliminary analysis was carried out in collaboration with FAO to select and submit the two priority sectors: dairy and banana. Of the total financing, USD 43 million will be allocated to strengthening the dairy chain and USD 17 million to the banana sector. This investment represents a significant opportunity to boost the development and industrialization of these critical sectors in Paraguay.