Idle Tonnage Passes a Million TEU as Bigger Box Ships Go into Lay-up
2023-10-31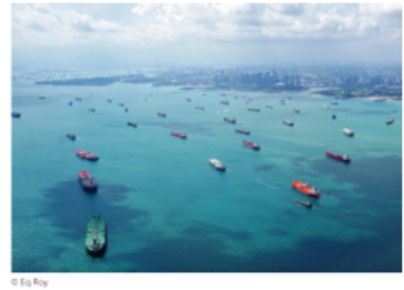 The amount of containership capacity idled has surged again, the latest survey from Alphaliner reporting 315 vessels (1.18 million teu) in lay-up, representing 4.3% of the global fleet.
In its fortnightly review of the inactive container vessel fleet, the consultant recorded a big jump from the 271 ships, for 942,035 teu, shown as idled two weeks previously.
It said the idle tonnage figures had been boosted by the addition of several larger ships, including four 12,500 to 18,000 teu vessels and three of more than 18,000 teu, either anchored or sent to shipyards for surveys and repairs.
Hitherto, the prominent increase in the inactive containership fleet has come from small and medium-sized vessels. Still, increasingly, carriers are deciding to mothball their surplus large ships that even bigger new-build arrivals have displaced.
Moreover, a ratcheting-up of carrier blanking programmes, including introducing winter service schedules to mitigate weak demand prospects, has resulted in de-facto network reductions and a consequential tonnage oversupply.
For example, according to maritime and supply chain intelligence firm eeSea, next week will see the peak of this quarter's cancelled sailings from Asia to the North American west coast.
"There are 19 blanks in week 43 alone across the major west coast ports (Canada included)," said Destine Ozuygur, head of operations at eeSea.
"I suspect this is the two-to-three-week transit time' ripple effect' of Golden Week blanks coming out of Asia. These week 40 Golden Week blanks on last-load ports out of Asia would be arriving sometime between weeks 42 and 44 and peaking on week 43, if we are looking at their first discharge arrivals into North America," she said.
The disconnect between a stable idle containership fleet, which hovered around 3% of the global fleet for much of the summer despite a downturn in demand, is partly due to the other capacity adjustment management measures taken by carriers, including slidings and super-slow steaming, used in addition to blanking programmes to soak up surplus capacity.
However, with demand prospects grim before the Chinese New Year on February 10, it is expected that more carriers will adopt winter schedules and take out capacity for some weeks, thus adding ships to the idled pool.
"The upward momentum in idle tonnage is expected to continue to build as the market enters the traditional slack period, which typically lasts through Q4 and Q1," said Alphaliner. "This will be further exacerbated with the continuous inflow of fresh tonnage into the sector."
Indeed, there have already been three 24,000 teu ultra-large container vessels (ULCVs) delivered this month, two received by MSC and the 24,188 teu OOCL Zeebrugge.
Alphaliner said Cosco Shipping subsidiary OOCL's newest arrival followed four sister vessels and would be deployed into the Ocean Alliance's NEU3 Asia-North Europe loop, which consists of a mix of ULCVs and smaller, 10,000-14,000 teu vessels, all supplied by Cosco and OOCL.
"Over the course of the next few months, this loop is expected to be upgraded to a homogenous fleet of 12 24,000 teu vessels," said the consultant.