Hapag Llyod Installs 7,00,000 Tracking Devices in The Global Smart Container Fleet
2023-10-31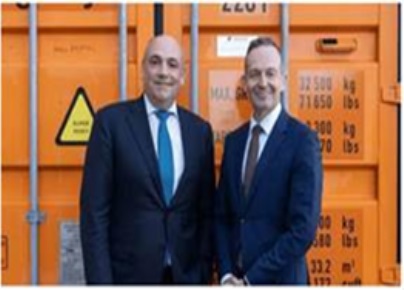 Hapag Llyod, a leading global shipping company, marks a significant moment in creating the world's largest smart container fleet by installing its 700,000th tracking device.
This digitalization of the fleets will help track the containers, transmit data on a timely basis, and monitor any sudden container activities, making the supply chain more accessible and transparent.
"We are proud to be at the forefront of the digitalization of container shipping," said Rolf Habben Jansen, CEO of Hapag-Lloyd.
Our "Smart Container Fleet" initiative aims to revolutionize the sector and establish new benchmarks for customer service and supply-chain transparency.
Dr Volker Wissing, the federal minister of digital and transportation, installed a device on a Hapag-Lloyd container on Monday to commemorate the occasion.
"It is our vision to build the world's smartest container fleet and provide valuable information to our customers at the frequency they need", states Olaf Habert, Director of Container Applications at Hapag Lloyd.
The tracking device, designed with the latest energy harvesting technology, will ensure a longer lifetime and high-frequency data transmission.
The company plans to install tracking devices on its fleet of 1.6 million dry and reefer containers by the beginning of 2024.