Canary Islands: Agricultural Platforms Call for Proper Management of Posei Funds
2023-10-31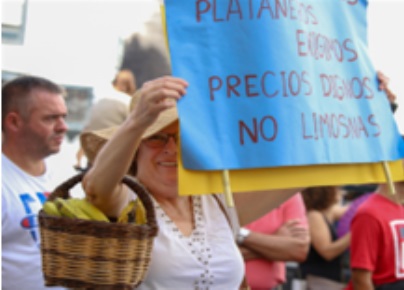 The Free Agrarian Platform of the Canary Islands and the Union of Unions of Farmers and Ranchers demand from the Ministry of Agriculture, Livestock and Fisheries of the Government of the Canary Islands more "transparency and responsibility" with the management of the Posei and the withdrawal of the volume of surplus bananas from the market to maintain the price, because "the 141.1 millions of aid deserve it".
In a joint statement, they warn of the "structural crisis" of the primary sector due to the inability of the Banana Producer Organizations (OPP) to sell more than 8,000 tons a week and also withdraw 1,000 excess tons from the market to be destroyed.
Thus, they detail that since December, Canarian farmers have not received "enough money" to maintain their plantations and criticize that the Ministry remains "impassive" in the face of the "repeated non-compliance" of the OPPs with the quantities of bananas that are discarded to maintain the price.
Along these lines, they point out that the Posei regulation requires that the discarded banana must have the same characteristics as the one that is going to be sold. Hence, they need the Ministry to carry out the pertinent inspections.
They also ask that they "follow-up" the application of the food chain law and price fixing in the banana subsector to "explain what is happening".
"We don't understand it," they added while demanding that the decree with the modifications to the reference quantities incorporate the areas validated by each of the producers.