Honduras: Banana Workers Block Roads
2023-10-31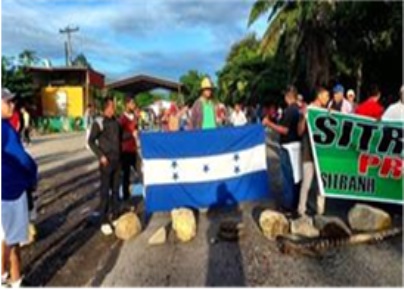 On October 25, about 1,000 workers from the Santa Inés Agricultural Company took over the CA-13 highway near the Planes, Sonaguera, Colón, protesting the Government for not authorizing the eviction of the people who had invaded three banana plantations in Bajo Aguán.
To date, it has been 12 days since the Guanacaste, La Paz, and La Esperanza farms were usurped by peasants who claim about a thousand hectares of these lands, which, according to them, were confiscated a few years ago.
The union leadership of the Santa Inés Agricultural Company gave a 24-hour ultimatum to the Government of President Xiomara Castro to order the evictions. However, there was no response from the Executive, and they decided to begin with the protest actions.
"Apologies to the citizens, we don't like to do this, but the Government has forced us to. There are about a thousand workers who are not working because the farms are invaded and we need this problem to be solved," said Alirio Garay, president of the Santa Inés Company Union.
With the invasion of the three banana farms, they risk losing about a thousand jobs since if the banana plantations are not recovered, the company would be firing the workers. In addition, they need to export 12 to 15 containers of the fruit daily to the United States due to invasions.