Contecon Invested USD 15 Million in Scanners for the Port of Guayaquil
2023-10-31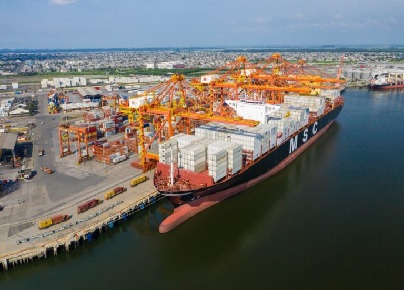 The scanners or non-intrusive inspection systems of the containers are installed and in a testing stage in the Port of Guayaquil, the port with the highest incidence of drug seizure in the country. Contecon Guayaquil, a private company that holds the concession for Guayaquil's Simón Bolívar Liberator Port, reported that it invested about USD 15 million in the scanners. The investment includes the acquisition of equipment and the adaptation of civil works. Javier Lancha, general manager of Contecon, said that the installation of scanners is advanced and pending administrative authorization. The concessionaire will recoup the investment by collecting a container scanning fee approved by the Port Authority. The base scan rate is around $36, Lancha said. Interior Minister Juan Zapata confirmed that all ports will have scanners by November of this year, according to a schedule. "Except for the port of El Oro, whose installation was left for February or March of next year," the minister said. We need our exports to be perceived as safe internationally," he added.
Meanwhile, on Wednesday, October 18, 2022, the concessionaire and the National Police laid the first stone for future police facilities at the port terminal. Construction will begin next November and accommodate 74 police officers and 24 anti-narcotics dogs in 1,484 square meters. The investment will be USD 750,000. The first phase of the project will be completed in six months, and all the work is expected to be completed by August next year. Lancha said that this is one more collaborative effort in the fight against the "scourge of drug trafficking" that affects the entire export logistics chain and the port with the most significant national infrastructure. The port of Guayaquil moves 40% of all goods exported by Ecuador.
The manager of Contecon reported that since the beginning of 2022, the concessionaire committed to the Ministry of Government the investment of USD 3.5 million for the next ten years.
Interior Minister Juan Zapata, at the groundbreaking ceremony for police installations in the port of Guayaquil, said this budget is intended to support police operations inside the terminal. In May 2022, Contecon delivered equipment and assets to improve land mobility, communication, and anti-narcotics inspection. That included two double cab trucks, two squadrons, 12 diving equipment, 12 radio communication equipment, and accommodation and food for 15 dogs. Pablo Ramírez, National Director of Anti-Drug Investigation, said that efforts and coordination with private companies and the export sector have made it possible to reduce drug seizures in ports. To date, 53 tons have been seized in the country's ports, compared to 77 in the same period last year. The ports of Guayaquil account for 70% of all seizures of this type nationwide.