Colombian researcher presents two important studies for the first time at the International Congress of Phytopathology
2023-08-28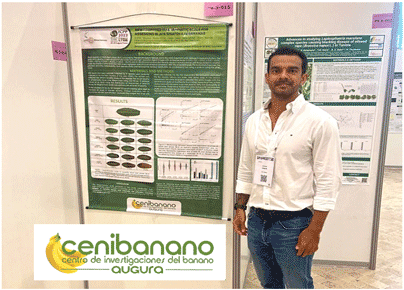 In the framework of the International Congress of Phytopathology (ICCP 2023), held in Lyon, France, from 21 to 25 August, and attended by more than 2,400 researchers from almost 88 countries, Andrés Mauricio Pinzón, PhD, researcher at the Banana Research Center (Cenibanano), affiliated to Augura, presented two innovative and outstanding papers.
The first focused on the use of manioc starch-based coatings with antifungal agents to improve the quality and shelf life of post-harvest Cavendish bananas. The second focused on a new diagrammatic scale for assessing the severity of black sigatoka in banana, with the potential to improve the accuracy of assessment and management of this disease.
The International Congress of Phytopathology is the world's largest event promoting plant health and food safety worldwide.