CMA CGM Still Earning over Billion a Quarter
2023-07-28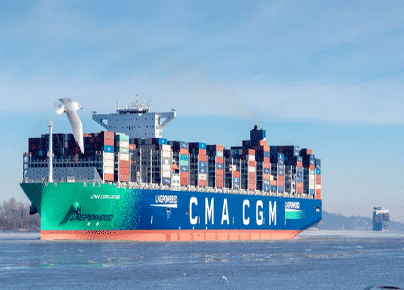 The bad news for France's CMA CGM, the world's third-largest ocean carrier: Profits continue to slide. The good news: The company is still raking in over a billion a quarter, net profits and revenue per container are still well above pre-COVID levels, and it still has a huge cash cushion courtesy of its boomtime windfall.
CEO Rodolphe Saade recently said that "performance remains robust" despite "difficult market conditions" amid "further normalization" of shipping rates.
The group reported net income of $1.33 billion for the second quarter of this year, down 82% from one-off, boom-inflated profits a year ago and down 34% sequentially from the first quarter of this year.
However, the latest results were substantially better than pre-pandemic performance. CMA CGM posted a net loss of $109 million in Q2 2019 and net income of $22.7 million in Q2 2018.
Q2 2023 results are in line with company expectations. CMA CGM said in late May that it expected the first quarter to be its best quarter of the year. And as of Friday, its bearish outlook on the second half hadn't changed. A combination of "uncertain demand" and newbuilding deliveries "is likely to weigh on freight rates in shipping, particularly on east-west lines," it said.
Despite multiple company acquisitions and a very large newbuilding program, CMA CGM still has still plenty of cash left in the coffers, affording it a runway to "weather the cycle." As of June 30, CMA CGM had $3.8 billion in "financial resources net of debt," down $1.85 billion from the end of last year. (As of the Q2 2019, the group had net debt of $18.6 billion.)
The group's ocean shipping division reported $2,983 in revenue per forty-foot equivalent unit of carried volume in Q2 2023, down 16% versus the first quarter of this year but still up 36% and 37% from pre-COVID levels in the second quarters of 2018 and 2019, respectively.
Poised to be second-largest carrier in the world
CMA CGM could surpass Denmark's Maersk to become the world's second-largest carrier at some point in the next few years.
According to Alphaliner data, CMA CGM currently operates a fleet of 627 vessels with a total capacity of 3.5 million twenty-foot equivalent units (including owned and chartered ships). It has 119 vessels on order totaling 1.2 million TEUs, equating to an orderbook-to-fleet ratio of 35%.
In capacity terms, CMA CGM's orderbook is second only to that of Switzerland's MSC, the world's leading container line operator. "CMA CGM's most recent orders suggest a more urgent growth ambition," said Alphaliner.
CMA CGM's newbuilding capacity on order is triple Maersk's. Alphaliner believes the French group could move into second place as soon as late 2024 or early 2025.
That timeline is based on the assumption that half of CMA CGM's newbuilding capacity will replace existing charters, and half will be fleet growth, whereas Maersk has stated that it will predominantly use newbuildings to replace chartered tonnage, not grow its fleet.
Big moves in secondhand and charter markets
CMA CGM's future growth follows aggressive activity in both the secondhand purchase market and the charter market. According to Alphaliner, CMA CGM acquired 105 container ships totaling 427,000 TEUs since August 2020, second only to MSC.
CMA CGM "is number one by far" in the chartering market this year, said Alphaliner. The ocean carrier has chartered 170 ships year to date, more than quadruple No. 2 charterer Cosco, which has leased 40 vessels.
From a strategic standpoint, CMA CGM is using bumper profits earned during the supply chain crisis to enhance the company for the long term more so than taking money off the table and enriching shareholders in the near term via outsized special dividends.
According to Alphaliner, "CMA CGM's group net income of $24.9 billion in 2022 made history as the largest-ever annual corporate profit recorded in France. Unlike several other large carriers, the Marseille-based group opted not to pay out a significant portion in dividends, instead reinvesting 90% of the profits, equal to $21.8 billion, back into the business."