U.N. Shipping Body Sets Net-Zero Emissions aim 'by or Around' 2050
2023-07-21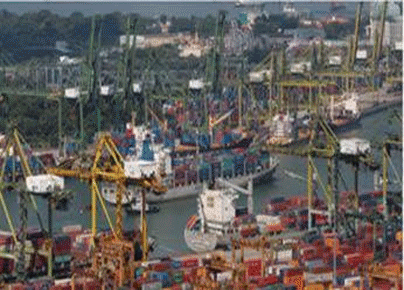 LONDON -- Despite mounting pressure to tackle greenhouse gases and limit global warming to 1.5 C above pre-industrial levels, China and others opposed a stricter target to curb carbon output from shipping and instead agreed on Friday to bring the industry's emissions to net zero "by or around" 2050.
At the conclusion of a five-day meeting of the International Maritime Organization, 175 countries and regions accepted interim targets to cut emissions by at least 20%, although the aim is for a 30% reduction by 2030 from 2008 levels, and at least 70% -- but aiming for 80% -- by 2040.
Environmental groups have criticized the "vague and noncommittal" deal.
"One of the reasons we've got this ridiculously caveated 2050 language is because of China, and one of the reasons that we don't have stronger 2030 targets is because of Japan," said John Maggs, president of the environmental group Clean Shipping Coalition.
The Paris Agreement sets a long-term goal to limit the global temperature rise to well below 2 Celsius from pre-industrial levels, with efforts encouraged to limit it to 1.5 C. Scientists now say the 1.5 number is key to avoiding the worst impacts of climate change.
It is understood that apart from China, Brazil and Argentina were among those who opposed a stricter target to meet the Paris goal.
The nonprofit International Council on Clean Transportation said that under the new agreement, international shipping will "exceed its 1.5 degree Celsius carbon budget by approximately 2032." They estimate that keeping well below 2 C -- usually interpreted as 1.7 C -- will be possible if the new targets are met.
The new strategy also aims for "zero or near-zero greenhouse gas emission technologies, fuels and/or energy sources" to make up at least 5%, aiming for 10%, of the power used in international shipping by 2030. It also aims to shrink carbon intensity per transport work "as an average across international shipping, by at least 40% by 2030."
What happens in international shipping is important to efforts to arrest climate change -- and critical to the fortunes of many Asian economies.
The sector is responsible for nearly 3% of global greenhouse gas emissions, or roughly 1 billion tons, per year, according to the IMO. That is a similar level emitted by Japan or Germany. Around 90% of world trade is transported by ships, which run almost entirely on highly polluting fossil fuels.
Asian ports handle the bulk of the world's maritime trade, picking up 42% of global exports and 64% of imports, while Singapore is the largest refueling hub globally.
China and Japan are among the top ship owners both in terms of dead-weight tonnage and commercial value, according to the U.N. Almost all imports into Japan arrive via ship. Analysts say the shipping industry in Asia needs to move quickly to stay competitive.
"In China, Japan and [South] Korea, their shipyards are, either through industrial strategy or through market forces, going to have to start selling zero-emission ships incredibly quickly," said Tristan Smith, associate professor in energy and transport at the UCL Energy Institute, a research center of one of U.K.'s top universities. "If any of the countries that haven't formed strategies are complacent about what happens next, they're going to lose their competitive advantage."
Pressure was mounting on the industry to take action because until now, the IMO had only aimed to "at least halve" emissions by 2050 from 2008 levels, and "work towards" eradicating greenhouse gas emissions entirely, which was widely considered as inadequate. Delegates at the meeting hailed the new agreement as an improvement.
It is hoped that the new strategy will spur private industry to invest in decarbonizing their fleet and shipping practices, but environmental organizations were scathing and implored individual countries and companies to be more ambitious.
"They concluded quite clearly that you can get very, very close to 50% emission reduction by 2030 with just a 10% addition to the total cost of operations," said Clean Shipping Coalition's Maggs, calling the deal a "wish and a prayer agreement."
The interim targets are considered an important element of any deal, because emissions need to be reduced more quickly earlier on to better limit the global temperature rise.
The focus will turn to how to reduce emissions for ships which are currently almost entirely run on fossil fuels. The International Council on Clean Transportation's Marine Program Lead Bryan Comer said curbing emissions will now hinge on implementing strong greenhouse gas intensity standards for ships and fuels.
Solutions being pursued include alternative fuels such an ammonia and hydrogen, which are not yet available at the scale needed for the industry which includes large tankers.
Japan is calling for a carbon tax on fossil fuel-run ships which would subsidize greener alternatives as they cost more in upfront investment. In the London meeting, it was agreed that an impact assessment will be carried out to consider a "global carbon price" as an economic measure for the International Maritime Organization going forward, but Argentina opposed a universal levy citing the disproportionate impact on developing countries.
Candidate-led mid-term greenhouse gas reduction measures are set to be finalized between 2023 and 2030.
Carbon Market Watch criticized the new deal as being "watered down" and said, "Due to this historic failure, we need ambitious countries and blocs to chart their own course and set carbon levies at national and regional level of at least $100 per ton of greenhouse gas emissions."
Some are taking more action than others. The EU has committed to including shipping emissions in its carbon trading system, and will set limits on the yearly greenhouse gas intensity of the energy used by a ship.
In the private sector, shipping line Maersk is setting its own net-zero target of 2040 and has ordered ships powered by green methanol.