Nicaragua Leader in the Protection of Plantain and Banana Plants
2023-04-28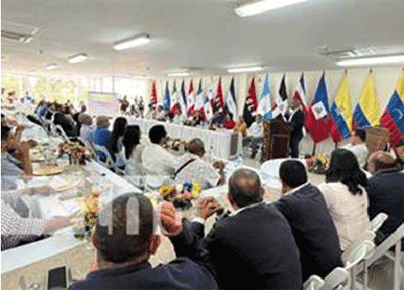 With the participation of representatives of the delegations of Panama, Venezuela, Colombia, Puerto Rico, Mexico, Peru, Haiti, Guatemala, and Honduras, the launch of the Regional Phytosanitary Field Simulation for the Care and Protection of Planting and Production of Plantains and Bananas was held on April 24 in Nicaragua.
The event was held in the Institute for Agricultural Protection and Health (IPSA) building, together with representatives of the FAO and the government cabinet.
This exercise that will be carried out in Nicaragua is part of a strategic element that the Government has been building within its development; in anticipating all those events that may affect banana and plantain crops.
The event will take place in the Central American country for three days; two will have field meetings in the department of Rivas, one in the municipality of Tola and the other in Peñas Blancas.
"As FAO we are sure and convinced that this exercise makes us a more solid, stronger region; with greater capacities to face this challenge and others, where early action is essential; in order to have sustainable food systems", highlighted Milton Castillo, FAO Representative.
In Nicaragua, a resolution, "Declaration of phytosanitary alert", was approved in 2023; for the application of the protocol, creating a capacity line with 400 qualified IPSA engineers.
Four thousand four hundred eighty-four producers were trained in 105 training sessions.