Representatives of the World Banana Industry at the CORBANA Congress
2023-03-10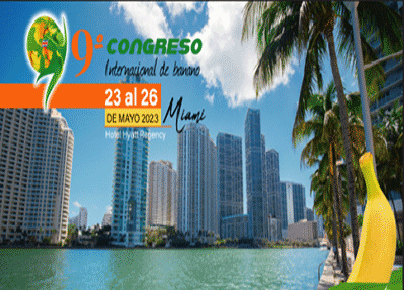 The new routes of the banana industry will be the topic of discussion, analysis, and business that will take place during the 9th International Banana Congress, on its return and reunion with the banana sector after four years of absence.
The National Banana Corporation (CORBANA), the governing body of the Costa Rican Banana Industry, is preparing a disruptive event for the entire fruit-producing sector worldwide. The International Banana Congress meeting point will be in Miami, Florida, at the Hyatt Regency hotel from May 23 to 26.
During the Congress, attendees will participate in talks, forums, business meetings, and a trade fair. The companies participating in the banana business value chain will show the most innovative products and services for banana entrepreneurs.
Among the topics for discussion are the industry's challenges, specifically about diseases that can affect the fruit and the economy of the producing countries, and what is happening with Fusarium Race 4. Producers will also be able to analyze how it has changed the taste of consumers and the preferences of the current market.
Entrepreneurs from the production sector of Ecuador, Costa Rica, Colombia, Guatemala, Brazil, Mexico, the Dominican Republic, the United States, Europe, and Asia have been invited to this activity. Trademarks that offer the industry the best products and services will also participate.
This 9th edition has a robust program on topics covering data and results in scientific research on Fusarium Race 4 and Black Sigatoka. In addition, the participants will learn about the latest trends in logistics and emerging markets.
"We are very excited to return again with the International Banana Congress. At CORBANA, we are preparing an event in which the entire banana industry will want to participate and not get lost because they will be able further to nurture their knowledge about the latest advancements worldwide and continue positioning their exports and markets", explained Jorge Sauma, general manager of CORBANA, who added that during the activity, attendees would learn about the future of the sector, changes in the prices of inputs, new European regulations for banana imports, and new trends for the banana industry.