CMA-CGM Argentina Sets Record In DP World Posorja
2022-12-23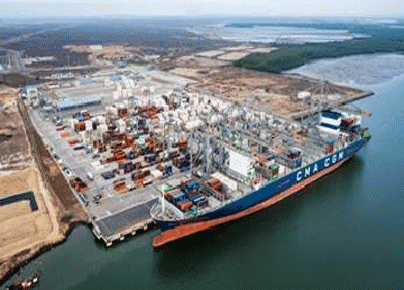 While the grand final of the World Cup was taking place between Argentina and France, the "CMA CGM Argentina" docked at the D.P. World port of Guayaquil in Posorja, the vessel with the largest capacity and dimension that has ever arrived in Ecuador, thus breaking a new record.
This container ship, built in 2019, has a capacity of more than 15,000 TEUs and a length of 366 meters.
The "CMA CGM Argentina" arrived from the Peruvian port of Callao, the first time it had a call in Ecuador.
This type of large vessel reflects the strategy of optimizing shipping operations. Its arrival in the country is possible through D.P. World Posorja, thanks to the efficient operation of the port, its modern and safe infrastructure, located in a strategic area of the South Pacific, due to its deep, expeditious, and secure maritime access channel of 21 nautical miles and 16 meters deep, which allows the docking and undocking of Post Panamax ships, at their maximum cargo capacities, consolidating itself as attractive for foreign trade from Ecuador.
D.P. World Posorja will continue to work hard as a critical actor in Ecuadorian foreign trade to consolidate itself as a new pole of development in the region, connecting it directly with the main world markets.