Market Overview – week 51/2022
2022-12-23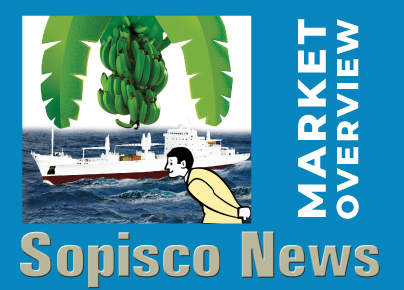 Banana selling prices in Russia were USD 18.00-18.75 per box CIF. Demand for the fruit was weak, and large volumes of bananas were available in the market.
Nearly 700,000 boxes were discharged in week 51, and around 2.08 million are expected for week 52. The exchange rate of USD/RUB was 1 USD=72.13 RUBLE.
The year-over-year inflation rate in Russia was measured at 12.6 percent for the week ending December 12, 2022, up from 12.5 percent in the previous week.
Selling prices in the Mediterranean for Ecuadorian bananas were USD 17.00-18.00 per box CIF, depending on brand, volumes, and region. Prices in the Mersin Free Zone ranged from USD 19.00 to USD 21.00 per box for re-exported fruit according to brand, volume, and weight. The price for bananas of Central America or Colombia origin was around 1.00-2.00 USD less. The USD and Turkish Lira exchange rate was 1 USD=18.69 TL.
Demand from Iraq and Iran was weaker, particularly from Iran, where the trade was hindered by the high value of the USD, which reached 395.000-400.000 against the RIAL -or 39.500-40.000 TOMANS-. The Iranian currency devaluated by over 30% against the US Dollar in the last two months. Due to the high price paid for bananas in Ecuador, imports of Indian bananas have increased in the Persian country lately. The cost of Indian bananas was 42000-43000 TOMANS or 420.000-430,000 RIALS per Kg., in comparison, Ecuadorian bananas were 50.000 TOMANS -500,000 RIALS- per Kg.
Traders lost money as their final price was around 50.000 TOMANS. On the contrary, the cost of Indian bananas for traders was about 40.000 TOMANS, and they could make some profits selling at about 42.000-43000 TOMANS.
Iranians celebrate the last night of Autumn in Persian Calendar as the longest night of the year, December 22 eve, which is called Yalda Night.
In the Ecuadorian Spot Market, selling prices only for the fruit ranged from USD 7.50 to USD 9.00 per box in specific cases during the week. Production increased by around 10-20 % due to higher temperatures, more extended periods of solar luminosity, and rains in the producing regions. Due to the decrease in demand from Russian importers, more significant volumes of fruit were also available in the market. Bagging was, however, still low. According to market watchers, prices in the Spot market might decrease further due to the higher volumes of bananas available and the reduced demand.
Regarding the Chartering Market, the current Time Charter rates for larger vessels were around US Cents 110-120 per cbft, per month and US Cents 100-105 per cbft, per month for the smaller tonnage.
Bunker prices:
VLSFO MGO
Gibraltar $ 574.00 $ 1,004.00
Rotterdam $ 534.50 $ 869.50
Panama Canal $ 640.00 $ 979.00