MSC Warns of Difficulties Ahead for Container Shipping Sector
2022-10-14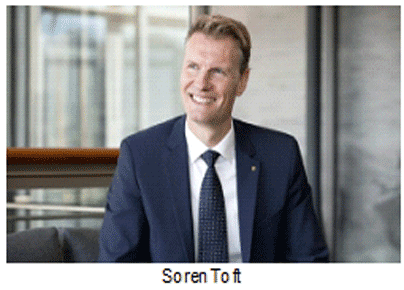 Mediterranean Shipping Co. (MSC) boss Soren Toft has warned of some difficult times ahead for the container shipping sector.
Taking to social media to share his thoughts on how the market and MSC were developing at the end of the third quarter Toft, CEO of MSC, commented that the market was "normalizing".
Following unprecedentedly high container shipping, spot freight rates driven by supply chain disruption on some trades have fallen by as much as two-thirds in recent months. This is now bleeding into contract rates as shippers push for renegotiations.
Toft also noted external macroeconomic pressures, which will pressure cargo shopping. "But we are also seeing rising inflation, rising interest rates and rising energy prices, so there will no doubt be some difficult quarters ahead," he warned.
MSC has been acting to cut capacity with blank sailings and, at the end of last month, announced it would be suspending its Sequoia service as part of the 2M alliance linking China and Korea with U.S. West Coast ports. The company noted, "significantly reduced demand for shipments into the U.S. West Coast during the past weeks".
Although warning of difficult quarters ahead, Toft also flagged MSC's continued expansion, with the "big news" of Q3 being the move to develop MSC Air Cargo. "It adds a new dimension to the company," he said.
Looking ahead, MSC's expansion of services that connect to ocean shipping is set to continue. "However, there are many reasons to stay positive. Toft said, we are developing other solutions, not only air cargo but also on the land, to expand our service offering further," Toft said.